Mordecai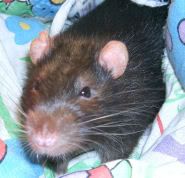 Name
: Mordecai a.k.a. Morde
Birthdate
: Approx. April or May of '03.
Death Date
: October of '05.
Death Cause
: Old age.
From
: Petco, in Arkansas.
Colors/Markings
: Standard black berkshire.
Health
: He has had mites and lice once before. A flare of myco came up. We gave him medication and he was fine. The vet said he was the sweetest rat she's ever seen.
Personality
: He is a huge sweetheart. I brought him to school once and
everyone
loved him. He licks, he boggles, he bruxes. He's fun to play hide and seek with :). When I bought him, the lady who was working at Petco had bred his parents and she hugged and kissed him good bye, he was the last of the litter and I can't see why he was the first one bought! There is a never a perfect pet, and his downfall is that he doesn't like eyeballs.. He scratched the outside of the corner of my eye once and scratched my brother's as well. He tried to bite my dad's. But other than that, he really is the
best
rat out there! We often share kisses and hugs. He snuggles up with me all the time. If I could have one wish, it would be that everyone could have a rat just like Morde. If he wasn't a pet store rat, I'd breed him and share his offspring with the world! :D
Comments After Death
: Wow.. it was such a huge heartbreak for him to pass on. He was the sweetest rat in the world. He did have an accidental litter one time and I have a daughter and a son of his. They are sweet! I miss Mordecai so much. Because of him I have created this rattery :). Let his memory live on!