About Us
We are located in Corbin, KY. By "we" I mean me, the main person, and my fiance, John. My name is Leona and I'm 21 years old. I do almost all of the rat stuff. Basically, John does the things related to the dogs, with my help of course, and sometimes he helps me with certain things related to rats. I've been apart of the rat community for seven years. I actually have to thank my friend Claire for introducing me to them. She wanted some rats and showed me links to places such as
Goosemoose
and told me about how rats are wonderful pets and how places like Goosmoose have a lot of people who have them. Also in the petz community there were a few people who had them. I told her she was conforming :-P. Of course I didn't think about how rare it really is to the people who weren't interested in rats. But nonetheless, I was curious. I read about them on the internet, checked out some forums, and I was intrigued. So.. I conformed. I went out to a local pet shop and bought my first rat - Merlin. I read basic stuff but little did I know buying from pet shops was not a good idea. The pet shop that had Merlin, was no different. They didn't seem like they took care of the animals, but I bought him anyway. He wasn't very nice. I went out to another pet shop and bought my second rat - Mordecai. Yup... what a mistake. I knew nothing about quarantining at the time. But Mordecai was completely awesome. I was hooked ever since then. I was also educated. From going to places such as Goosemoose, I learned that Pet shops were a bad idea to adopt rats and you
must
quarantine your rats before bringning them to the rats you currently have. I was lucky that nothing happened to mine, but that is a chance I will never take again.
I decided to become a breeder after Mordecai passed away. He only got sick one time, and got better with medication within a week, and then he died of old age at approx 2 years and 8 months old. That wasn't long enough for me. I wanted him for three years, three and a half years, four years. Okay.. so that's almost impossible.. Then I got some rescues who got sick. Even with medical attention they ended up dying for one reason or another. And then some rats just weren't nice. From their poor past experience they hated people. That's when I decided I would help other breeders breed more healthy, longer-lived, and sweeter rats. It's going to be a very long and hard journey but I'm prepared to take it. It's already been hard. So far, I've been studying genetics, health issues, proper breeding methods for six years and counting. When adopting pedigreed rats, I had to deal with the almost impossible rat community who are strict about new breeders. I finally found someone able to help me. I almost had my rattery started in 2007 but my daughter passed away, so I had to have time to myself. I had to restart everything. I then had to deal with the rat community again. Finally I found another one that was willing to help and so here I am. It's been a rough journey already but I'm still here and hopefully without any more personal tragedy, I will be here forever.
How We Got Our Name
The name Splash and Spots was first created for our huskies. We wanted a catchy name that would describe our precious dogs. After many months of trying to think of something we decided Splash and Spots Huskies because of the splash coat and the piebald (spotted) coat. It's really catchy and adorable. Prior to becoming Splash and Spots Rattery, we were called Morde's Minions, after Mordecai. I decided that the name wasn't the greatest for the rattery and my fiance, John, suggested using the name Splash and Spots. I thought about it for a very long time and the berkshire kind of fits the "splash" coat of huskies (collared on back, white on stomach) and the dalmatian fits piebald. So... I decided on that name. :)
How We Care For Our Rats
I have a FN that will hold the fully grown males, and a CN to hold the females. I also have two R-695's, one R-690, a small birdcage as a temp cage, and tubs for maternity cages. The bedding we use is fleece and cloth/fabric. We have toys and hammocks in their cages for stimulation. They are fed mostly Native Earth (formerly Harlan Teklad 2018) and a modified grain mix. We also feed fresh fruits and veggies for snacks. They have daily free range time, in groups, that can last an hour to almost all day, depending on the days and whether I have work off. I never let them go unattended of course. Our quarantine facility is at my mother's house thirty minutes away from our house. It's not too bad of a drive when it comes to making sure there are no illnesses. The rats who are there are taken care of by my mother who loves animals as well and of course we drive there almost every day. The breeding system we use is the hand breeding method. We watch the female for multiple days until we see that she's in heat and then we place them together, watch them for an observced mating, and then let them be together for a few hours. We feel more comforatble using this method because it causes less stress also the female is more receptive and doesn't put up a fight which may cause injuries. Once the female is removed we weigh her everyday to confirm pregnancy. Once the babies are born we will seperate them at five weeks and that is when they will be available.
Our Rattery
Here some pictures of my rattery. We have a room specifically for the rats.
The boys part of the CN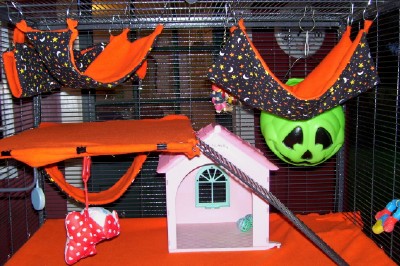 Boys in the CN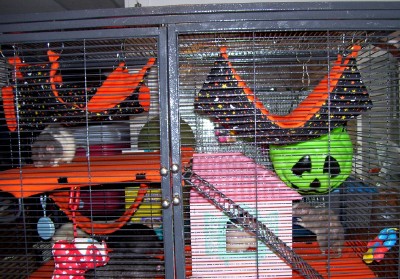 The whole cage

The girls part of the CN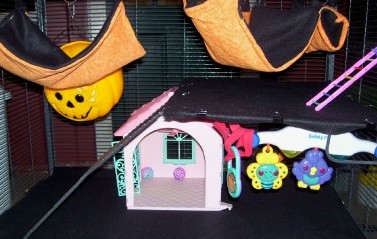 Girls in the CN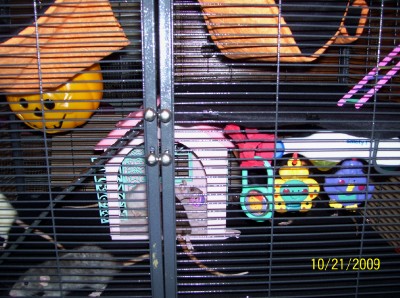 The 695's, the CN, and the 690 at the end.