Merlin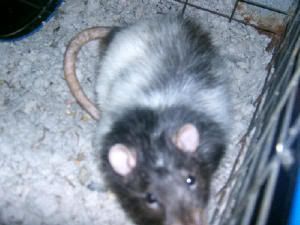 Name
: Merlin
Birthdate
: Approx. the middle of '02.
Death Date
: October 12, 2004
Death Cause
: Unknown. Assuming old age since he was a little bit over two.
From
: Pets Plus, in Arkansas.
Colors/Markings
: Variegated hooded, standard.
Health
: He has had mites and lice before.
Personality
: He was a sweet rat.. When you didn't stick your fingers in the cage, or if you didn't accidently touch him near his mouth, or if you suddenly reached into his cage. If you opened up the cage and pet him then he was good about it. I loved him nontheless, even when he took chunks out of me. I still worked with him. He got better at being held but he still bit with the fingers going through the cage and if I surprised him. The place I got him from wasn't a very nice place and I shouldn't have bought him there, but I felt sorry for him. I loved him inspite of his aggression and he will always be missed. I have a necklace in his remembrance.