Ginger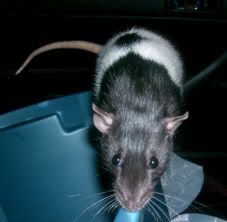 Name
: Ginger
Birthdate
: Approx. August 25 '03
Death Date
: July '06
Death Cause
: Cancer
From
: Rescue from
Dazzle Me
Colors/Markings
: Dumbo, partially black hood.
Health
: She has never had a health problem, however, she does have a dislocated or broken toe but that doesn't bother her at all!
Personality
: Ginger was a little fiesty at first. She has bitten me a couple of times but nothing that a little loving and caring didn't take care of. She hasn't bit me in quite some time but she's not very good at licking yogurt off of fingers. During free range time she is always off of my bed and everytime I try to rig something up she always seems to land on my floor. She jumps extremely high so I have to push everything way away from the bed, though she found out a way to climb down the bed xD. Luckily, she crawls in my dresser and is easy to catch then :). She nibbles on my toes
all
of the time though it tickles more than it does hurt.
Relatives
: Sisters - Abby and Electra
Comments After Death
: It was so sad to watch poor Ginger died. She formed a mammary tumor. It progressed so quickly. She was almost three and got so weak and sick that I thought it would be best to not operate. It didn't bother her too much. She was so sweet. I'll miss her forever and always. She was the last of the Chicago girls to pass on :(.