Electra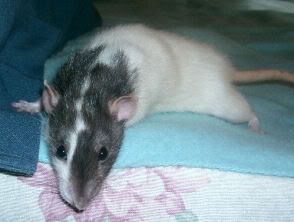 Name
: Electra
Birthdate
: Approx. August 25 '03
Death Date
: Approx. December '05
Death Cause
: Mycoplasma Pulmosis.
From
: Rescue from
Dazzle Me
Colors/Markings
: Dumbo, capped with a blaze.
Health
: She has never had a health problem.
Personality
: I don't know what it is about Electra but she is special to me. She always seem so alone and so independant compared to her sisters. I just always feel like reaching out and hugging her whenever I think about her. She hasn't licked me, but one time I was laying on the bed during free range time, she was standing still beside me for once, and I was stroking behind her dumbo ears and over her nose and to my surprise, she boggled and bruxed! It brought me to tears :). She usually is a loner so it was a surprise.
Relatives
: Sisters - Ginger and Abby
Comments After Death
: I miss Electra so much! She was the sweetest of the group and the first one to die. She got really sick - a bad case of Myco. I took her to the vet and they gave her medicine. She didn't seem to be getting any better after weeks being on medication and some more medicine was on the way. I opened up the cage and she literally flew out at me. I picked her up and held her. I stroked her and kissed her. I cried. I told her to please leave. To stop suffering. I told her that I loved her and it would be better this way. I cried some more and held her even close. I set her down on my bed and walked out of the room into the kitchen for a drink for myself and to wipe the tears away. When I got back, I couldn't find her. I saw her little tail poking out from around a stuffed animal that was laying on my bed. I walked over there and she was curled up against it - gone. It was so sad, but I was so glad she was no longer suffering.