Abby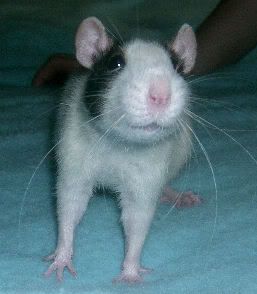 Name
: Abby
Birthdate
: Approx. August 25 '03
Death Date
: I completely forgot. I wrote it down and lost it. I would say approx. Jan of '06
Death Cause
: Uknown. Perhaps old age in the line.
From
: Rescue from
Dazzle Me
Colors/Markings
: Standard ear, odd eye, split cap/stripe.
Health
: She has never had a health problem.
Personality
: She is very sweet! She loves to give me kisses on my fingers and lips and she's known to try and groom someone's eyelashes, eyebrows, and hair :). She
hates
to leave free range time and it takes me at least thirty minutes to try and catch her, but it's worth it! She's very outgoing and very curious of her sorroundings but never ventures off the bed! She does seem to like to stand on my head when I'm laying down o.o.
Relatives
: Sisters - Ginger and Electra
Comments After Death
: I miss this girl so much. She was really sweet. Her death was absolutely devasting. I feel as if I should've done something to prevent it, even though I'm not exactly sure what happened. I just woke up and looked over and she was dead in her cage. It was really really sad. She acted completely normal and there was nothing wrong with her. Maybe it was old age in the lines?